10 Important Life Lessons Children Teach Us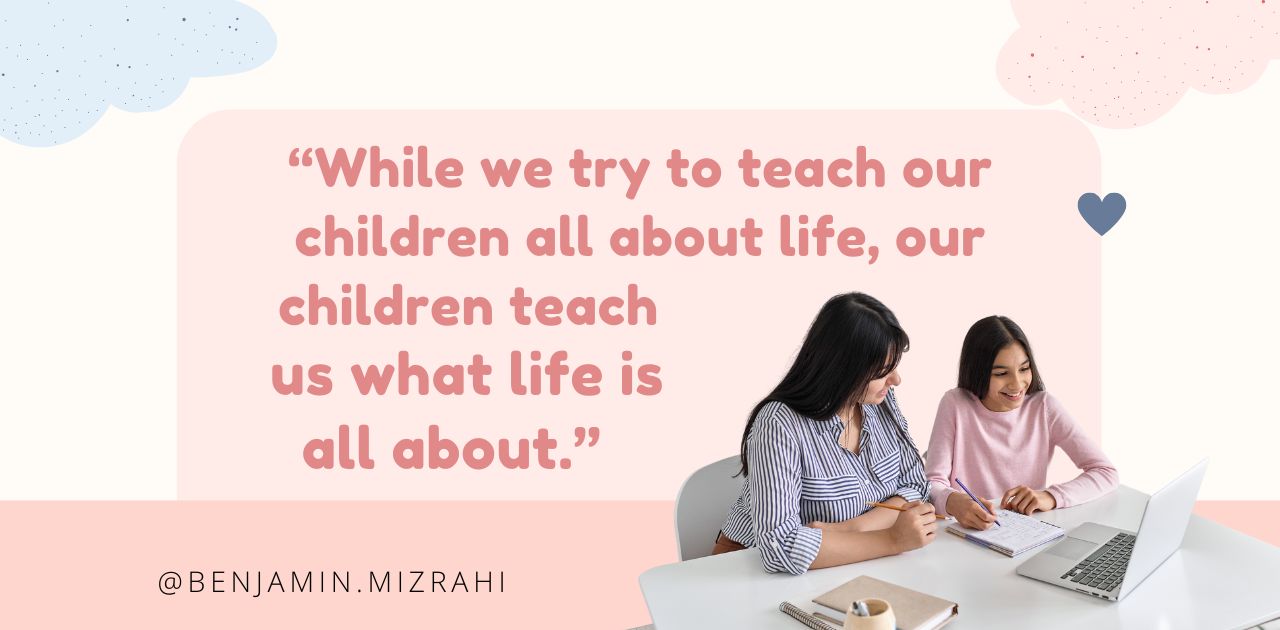 From the moment that our children come into our lives, we know that it's our responsibility to guide and teach them. As newly formed little humans, they have a lot to discover and learn. And as their parents, we are the tour guides who help them figure out this world. 
But, as their parents, we are so busy rearing, educating, and helping them to navigate the world that we often don't realize that they are teaching us. So, what do they teach us? 
10 Important Life Lessons Children Teach Us: 
To Be Curious: Children ask questions, peek into cupboards, and push buttons. It's important as adults to remember that being inquisitive is how we learn. And there is always more to learn. 
To Find Joy in the Simple Pleasures: A perfectly timed burp. Sliding down a water slide. Children appreciate the simple pleasures because they don't have unrealistic expectations. They understand that joy can be found anywhere. As adults, we must remember to keep seeking the simple pleasures. 
To Accept: Children don't judge. They don't see color, faults or flaws; they see the potential for a new friend. Tolerance is a lesson none of us should forget. 
To Express Our Emotions: Children scream when they're mad. Squeal when they're happy. Wail when they're sad. As adults, it's good to remember that it's much better for our soul to let it out than to keep it bottled in. 
To Live in the Moment: Children never stop playing cars because they must meet their self-imposed deadline to color. Instead little ones stay present when they feel joy. So, sip your coffee—the laundry can wait an hour. Live in the now, it makes life more enjoyable. 
To Be Passionate: A craft, a car, or a dollhouse can keep a child entertained, enthralled and busy for hours or even days. When a child discovers a new activity, he or she embraces it with love and excitement. Children put their whole selves into the endeavor. As adults, we need to remember to not temper our passion but rather embrace it—it's how greatness is achieved. 
To Savor the Sweet Moments: Playing in the bath, tumbling across the floor or nestling in our arms are just a few of the sweet moments children never rush. They don't stop or pull away to sweep or take a call. Their pure delight living in the moment teaches us that now are the good old days. 
To Not Limit Ourselves: A firefighter, the president, a space cowboy. Children believe they can be anything because they don't limit themselves. It's not their perceived flaws and shortcomings that dictate their dreams but rather their interests and passions. So, the next time you think you can't, remember that you can. 
To Be Fearless: Children jump, climb, and tumble. They taste, try, and run headlong into new experiences. It's a good reminder to adults that being bold and daring makes for the best memories and a much more interesting life. 
To Indulge, Savor and Enjoy: Children don't scarf down their food. They don't turn away dessert. They welcome and enjoy the things and moments that bring them joy. Adults should always bear in mind that indulging in and savoring the sweet things in life is what makes life sweet.