Why Parenting Style Matters When Raising Children with ADHD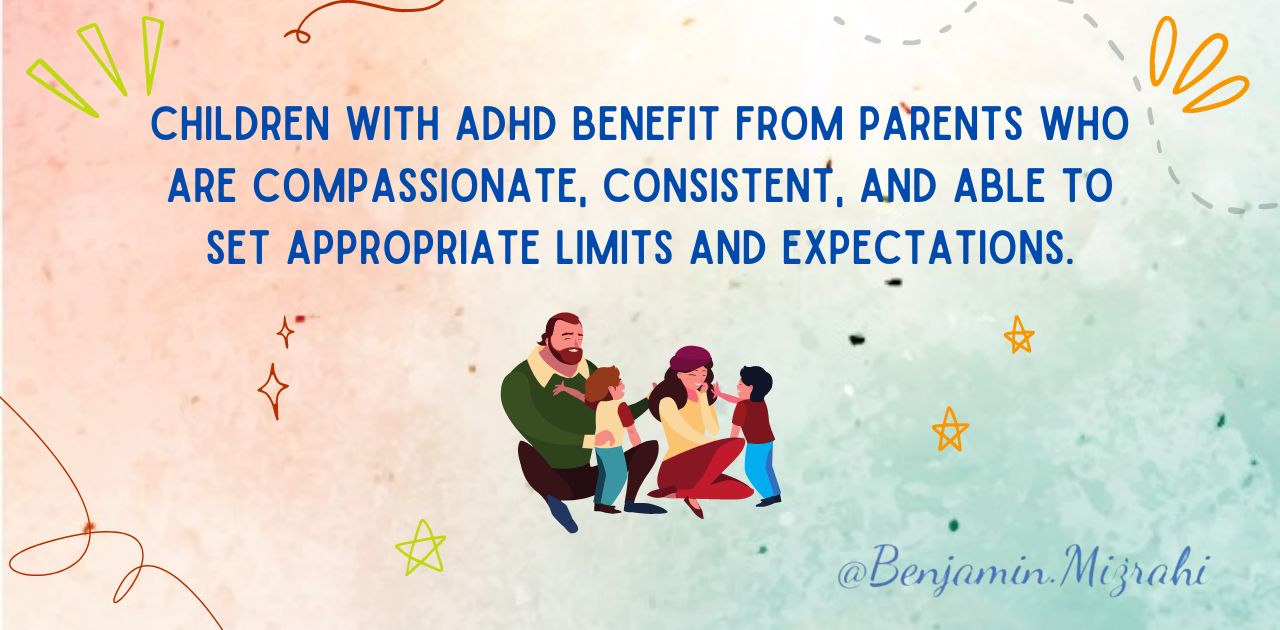 Parenting style matters in ADHD. Parenting does not cause ADHD, but different methods tend to be more effective and more likely to minimize symptoms. 
What improves behavior for kids with ADHD? Emotionally supportive but consistently firm parenting. Behavioral improvement happens when parents: 
take the lead, 
stick by new systems, and 
remain patient with their children. 
Change Begins with You 
You didn't cause the ADHD, but you do impact the outcome. Studies show that support aimed at parents helps ADHD symptoms more than when therapists work only with children. You've always done the best you can, and there's always something new to learn and try. The balancing act is being open to change, while also accepting that you (like all of us) haven't been perfect before. 
Stick to the Basics of Positive Parenting 
Where other children may respond well to a wide range of parenting styles, children with ADHD require parents to more consistently stick to the basics. All children need supports until they have the capacity to monitor their own behavior, create their own routines, and manage their own responsibilities. Children with ADHD require this framework for several years more than their peers. 
As a parent of a child with ADHD, you're being held to a high standard. You are expected to stay positive in the face of slow progress when a child does not consistently do what you think is best. And yet, ADHD-related behaviors require near-constant correction for some kids, creating a background hum of "don't touch that, don't run into the street, get back over here and finish your dinner." What follows is a tough-to-break cycle of negativity. 
Yet parenting that leans too far in the punitive direction may exacerbate ADHD-related behaviors in the long haul.  Instead, a balance can be found where a parent firmly upholds limits while creating an overall home environment that seeks out and emphasizes the child's successes.  
Set Fair & Reasonable Expectations for Yourself 
Skillful parenting often comes from recognizing when you need outside support. Working with someone to address your own concerns or improve your marriage can make a huge difference for your children. Getting training and working with a coach or therapist provides skills and strategies. Practical tools support behavioral change and can help you build your own confidence and resilience. 
Setting realistic expectations for you and your children is also vital. You cannot do everything "right" as a parent, or depend on a uniform, cookie-cutter approach to "fixing" life, since there is no one perfect solution. Instead, you can cultivate your own balance and wisdom, which allow you to manage family life to the best of your ability. Practicing mindfulness is one way to do this; Impact ADHD's regular "Self-Care Tips" for parents is another. 
 
Pay attention to your parenting style and find a match that works for you and your children. The fact that parenting influences ADHD may seem like a burden, but it can be an opportunity to take life in a new direction.
Coach Benjamin Mizrahi. Educator. Learning Specialist. Family Coach. Father. Husband.   
More articles on Mr Mizrahi's Blog - Benjamin Mizrahi