Words Matter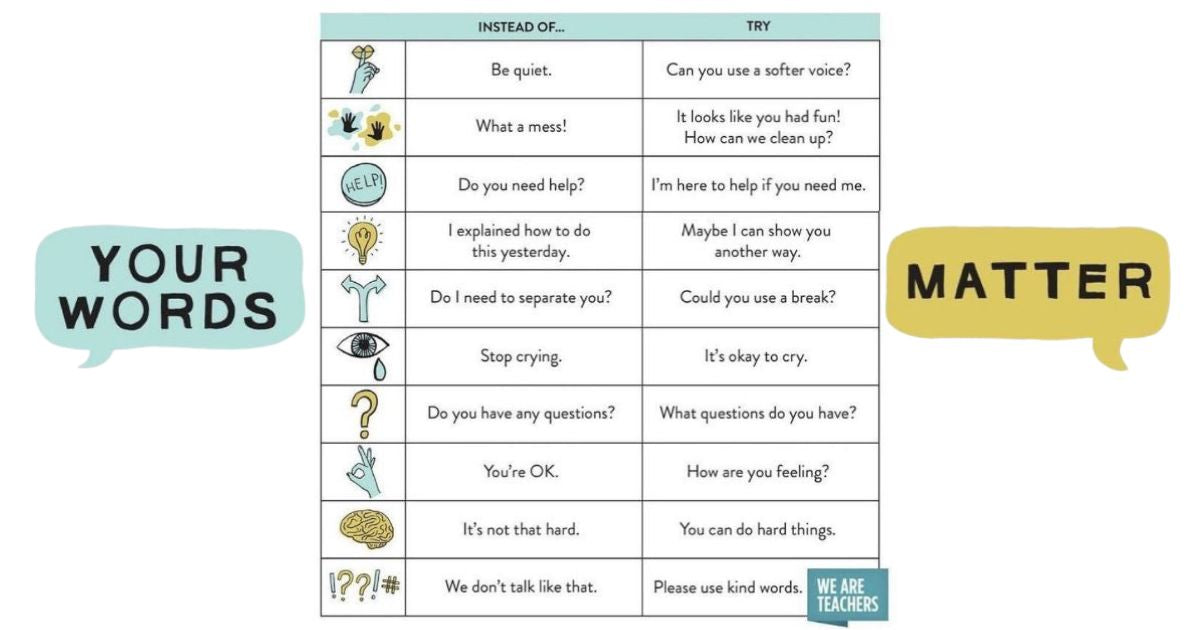 📸 photo credits to @weareteachers 😊
"Be mindful of the language you use to describe your children. They will come to see themselves through the filter you design." – Lori Petro, TEACH Through Love 
Words are powerful. Words are especially powerful when said by parents to their children. The words we use to describe our children become a part of their self-concept and their behavior is based on their self-concept. Our actions have deep roots on what we think and how we perceive self. Self-concept has a big influence on our behavior. Behavior pattern decides actions. Stable or unstable self-concept, it is a motivating force in a person's behavior…It is important at this moment to connect the influence of the words we use to call little ones as 'dumb', 'stupid', etc. We just casually call and forget, but those words have big impact on little minds. Some school children study below their capacities because they have learned at home and from other members of friend circle to think themselves as dumb. 
Children will have a much easier time valuing themselves if they are valued by their parents. Dorothy Briggs, the author of Your Child's Self-Esteem, says that parents are like a mirror, creating the child's self-image. We reflect to them who we think they are, and they take it in as the absolute truth. They are not critical of our evaluation of them until they get much older, when the damage is largely done.  
The way we 'frame' a situation, or a person, heavily influences our interactions. If we consistently see our children as frustrating impediments in that would otherwise be a well-ordered life, then every interaction with our children will be marred by that default view. Such a view promotes a deficit-orientation towards a family. It reduces motivation on the part of parents to help their 'good-for-nothing', 'bratty', 'ungrateful' children. And unsurprisingly, such approach is hardly inspiring for children. They feed off the negativity of parental perception and typically live up to precisely what is expected of them…which is not much. 
I understand we aren't perfect parents, and sometimes something may slip off our tongues that we regret saying. In those instances, apologize and reaffirm to your child your love and belief in him. Positive parenting does not require us to be perfect, but it does require us to be mindful. Be mindful not only of the words you say, but of the thoughts you think. Reframe negative thoughts and purposefully look for and appreciate the positives in your children. Tell them how kind, capable, and wonderful you think they are. One of the greatest gifts you can give your child will never be found under the Christmas tree: A healthy self-concept.